Meet our March winner...
Published 02 March 2021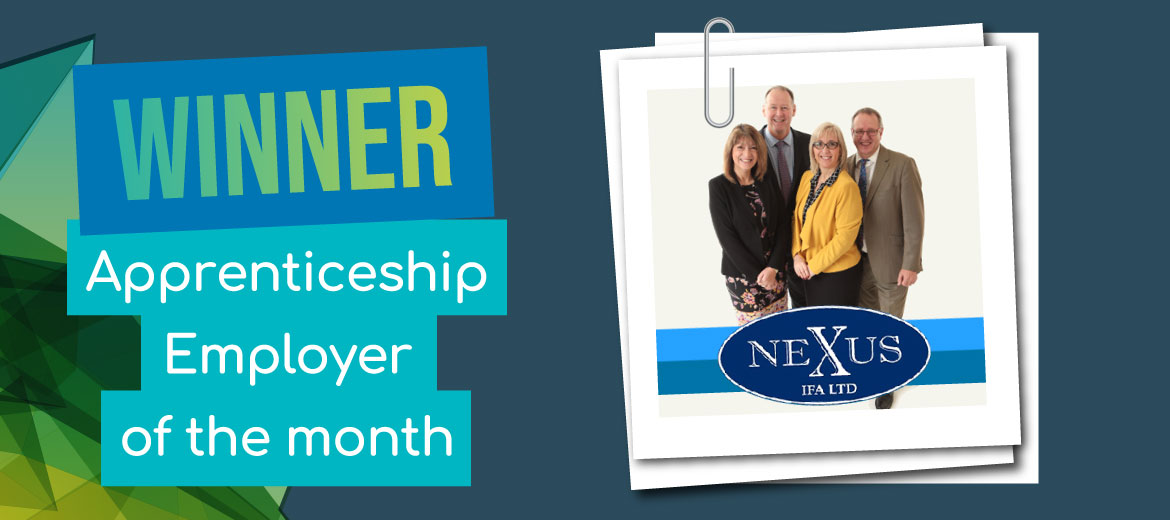 Congratulations to Nexus IFA, independent finance and mortgage advisers, based in Bridgwater, on becoming the latest winner of our Apprenticeship Employer of the Month award.

We've been working with director Phil Frapple, office manager Martyn French and Business Admin apprentice Victoria Tucker for over a year and have been impressed with their commitment and support. This award celebrates their ongoing commitment to the training and development of apprentices.
View Article
Top
---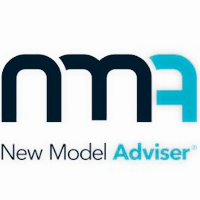 On the Road: Check Chepstow's top pics out
Published 15th May 2019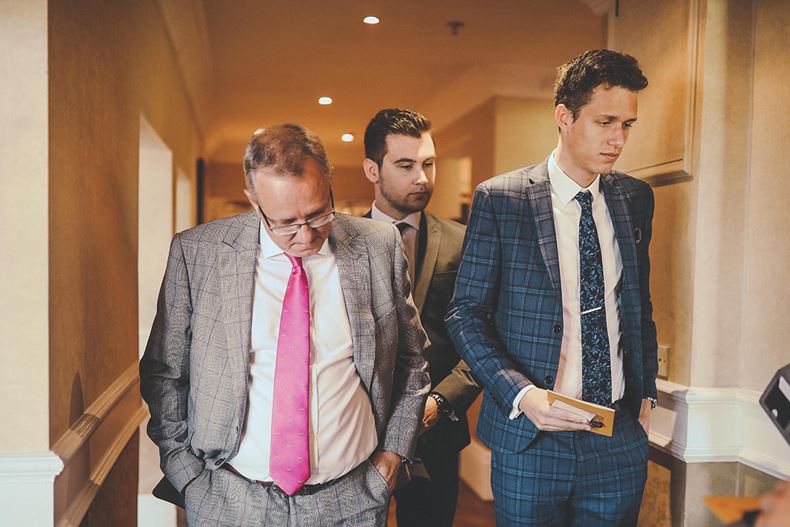 Nexus Advisers Phil & Harry Frapple along with Paraplanner Harrison Angove at the Citywire NMA On the Road event in Chepstow, where delegates had the opportunity to sit down with a line-up of top-performing portfolio managers, covering just about every possible asset class.
View Article
Top
---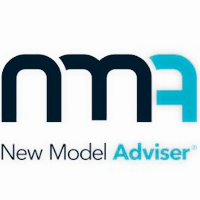 IFA millionaires: how 8 next-gen advisers would invest £1m
Published 20th February 2019
What would you do if you had a sudden windfall of £1 million? These young leaders in the advice profession think they know


Name: Harry Frapple

Firm: Nexus

Title: Financial adviser

Location: Somerset

How would you invest it?

The first thing I would do with a million pounds is purchase a house, let us say for argument's sake one worth £200,000. Living without a mortgage at the age of 22 is the dream, right? The next logical step has to be to maximise a stocks and shares ISA with £20,000.

After this, I would put another £250,000 into a stocks & shares GIA with a bed and ISA to enable the maximisation of the ISA every year. This would then leave me with a cool £530,000 left to play with. Of that, I would place £200,000 into a venture capital trust (VCT) to gain the 30% tax relief. To create long-term wealth, I would keep £250,000 to invest in the firm I am currently employed by, leaving £80,000 as a rainy day fund.

Where would you invest it?

Coming from a firm that believes in discretionary fund management I would take a different approach. First thing would be to asses my attitude to risk and capacity for loss which comes out as moderately adventurous. Based on this I would use a DFM to build a bespoke portfolio around my aims and objectives.

How much would you keep in cash?

Having £80,000 in cash would be more than enough as a rainy day fund!

I think the modern way of doing financial planning is to maximise ISAs so you can plan for a tax-free future. VCTs are exciting products that can offer you a great amount of tax relief.
View Article
Top
---

Match Ball Sponsor of Yeovil Town Ladies FC
Published 19th September 2018
Nexus IFA were proud to be the Match Ball Sponsor of Yeovil Town Ladies FC versus Arsenal Women, a Women's Super League Match, on 19th September 2018.

View Tweet

Top

---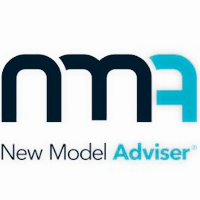 Around the UK in 30 IFA offices: the 2018 news so far
Published 11th April 2018
Frapple grapples with lack of youth in advice

Audience development executives Bhavna Koli and Ashley-Thomas Walsh caught up with Phil Frapple, director of Somerset-based Nexus IFA, at the Quilter Cheviot roadshow earlier this year. At the Leigh Court venue in Bristol, Frapple bemoaned the lack of young people in the profession.

He joked that many of New Model Adviser®'s 'Top 35 Next Generation Advisers' last year were nearer the upper end of the age spectrum.

On the topic of the next generation of advisers, Frapple mentioned his son Harry Frapple, 21, and Paulo Costa, 22. The pair joined the firm as trainee advisers in 2016.
View Article
Top
---

Nexus IFA reaches deal for £20m advice firm
Published 31st January 2018
Somerset-based Nexus IFA, a serial buyer of other IFA firms, has reached a deal with advice firm Amber Associates. But, it is not an acquisition.

Ian McIver, development director at Nexus IFA, confirmed it does give the two advisers at Amber, which has £20 million of assets, a future retirement option further down the line, as well as use of Nexus IFA's centralised administrative and paraplanning resources.

McIver said he chose not to go through the normal acquisition process because the advisers are still young, with both wanting to focus on spending time with their clients.

'What this deal has shown is the value of administrative and paraplanning centralisation,' he said. 'Advisers recognise running as a one-man band is fine, but eventually you run out of steam. Unless you do not mind a lower turnover, you need administrative resources.'

McIver said coming under the 'wing' of Nexus IFA is a great way for a small advice firm to grow its business.
View Article
Top
---

Consolidator snaps up Tenet advice firm
Published 7th August 2017
Consolidator Nexus IFA has completed its 25th acquisition with a deal for Somerset-based Francis Financial Services.

Founded in 2002, Francis Financial Services has 200 clients with £9 million in funds under advice. The advice firm, which has one adviser, was a member of the Tenet network.

Ian McIver, development director at Nexus IFA, said the deal, for an undisclosed amount, has been made on a 'cash' basis where the adviser is paid over a two year period.

This contrasts with the so-called annuity deals which Nexus IFA also makes. In this type of deal the acquired adviser is paid over a 10 year period to encourage them to keep the clients with the business.

McIver added he expects the firm to keep making acquisitions over the coming months.

'It is number 25 but there are plenty of others we are looking at,' he said. 'We are always looking and there are plenty of enquiries and plenty in the pipeline.'

Following the deal, Francis Financial Services' director Nigel Francis will be retained to continue with the client relationships, McIver added.
View Article
Top
---

IFAs support end of 'unforgivable' trail commission practices
Published 5th July 2017
Although consolidators are in line to be hit worst by the Financial Conduct Authority's (FCA) planned ban on legacy trail commission, one acquisitive advice firm has welcomed the change.

Meanwhile other IFA firms have said it is about time the FCA cracked down on unscrupulous advisers who take legacy trail for little to no work.

Enforcement issue

Many consolidators have acquired large books of legacy business, including books from retiring advisers, and could be hit by the changes.
The regulator warned that some investors 'do not remember from the point of sale disclosure that they are paying trail commission, or are unaware of the adviser receiving the payments'. This is because advisers can sell their legacy books without informing investors, it said.
But Ian McIver, director of development at Somerset-based Nexus IFA (as of July 2016, Nexus had acquired 25 firms through consolidation, and has around £400 million in assets under advice), said the FCA would struggle to enforce any such ban.

'There are two ways you can see it,' said McIver. 'The general point consolidators will want to make is that legally, it's a bit challengeable. Whether the FCA is right or wrong, trail commissions are part of a post-retail distribution review legal arrangement, which is sticky ground. I don't think it will happen, personally, as it's unmeasurable and won't achieve what they want it to.'

However, he said it was 'a great opportunity for firms that have taken on client banks to look at that book and get the clients re-engaged in an active post-RDR framework'.

He said moving on to his firm's ongoing charges agreement would cost clients more.

'Our standard [ongoing service] model might be slightly higher but because of the discounts and other benefits we can obtain, it ends up being better for them to stay with us. It's a great opportunity for firms to say "yes, there is a bit of tidying up to do, but it will be beneficial in the long run".

'If those clients leave rather than moving over to a more fitting model, the only winner will be the providers. There will be no tangible benefit for consumers.'
View Whole Article
Top
---

Are advisers getting fair value for selling up?
Published 25th May 2017
The acquisitions market has many pitfalls for both advisers and acquirers

With the list of potential suitors growing, advisers may be more tempted than ever to sell their firms.

Whether they want to retire or just take a step back from management, advisers have plenty of options; they can turn to household names like Old Mutual Wealth or Standard Life, or to newer consolidators like Bellpenny or Fairstone.

But are the deals on offer worth the price? Money Marketing delves into the mechanics of buyouts to see where advisers are cashing in and losing out.

Read Full Article
Top
---

Somerset IFA buys Hertfordshire firm to boost assets by £14m
Published 8th May 2017
Bridgwater-based Nexus IFA has secured a deal to buy Hertfordshire-based Clive M Goodchild & Partners, adding 150 clients and £14 million in assets.

Clive M Goodchild is a sole trader advice firm run by director Richard Smith, who will no longer be authorised by the regulator to give financial advice after the deal.

Ian McIver (pictured), development director of Nexus, said the deal was being done on an annuitised basis, rather than as a capital upfront payment, with the payment for the advice firm made over a period of 10 years.

McIver said these payments allowed the firm to make use of the new client bank. The annual payments to the seller depend on ensuring the clients stay with Nexus, with the amount calculated based on recurring income.

He said this model of the deal was why Clive M Goodchild was attracted to Nexus.

'We were speaking with Richard Smith for around two years and he saw a letter in the press about how there are two ways to purchase an IFA firm: annuitisation or upfront cash,' said McIver. 'He picked up that we do the former.'

Smith will help with the relationship his former clients have with the acquiring firm.
View Article
Top
---


Annuitisation makes for a better multiple when selling
Published 23rd March 2017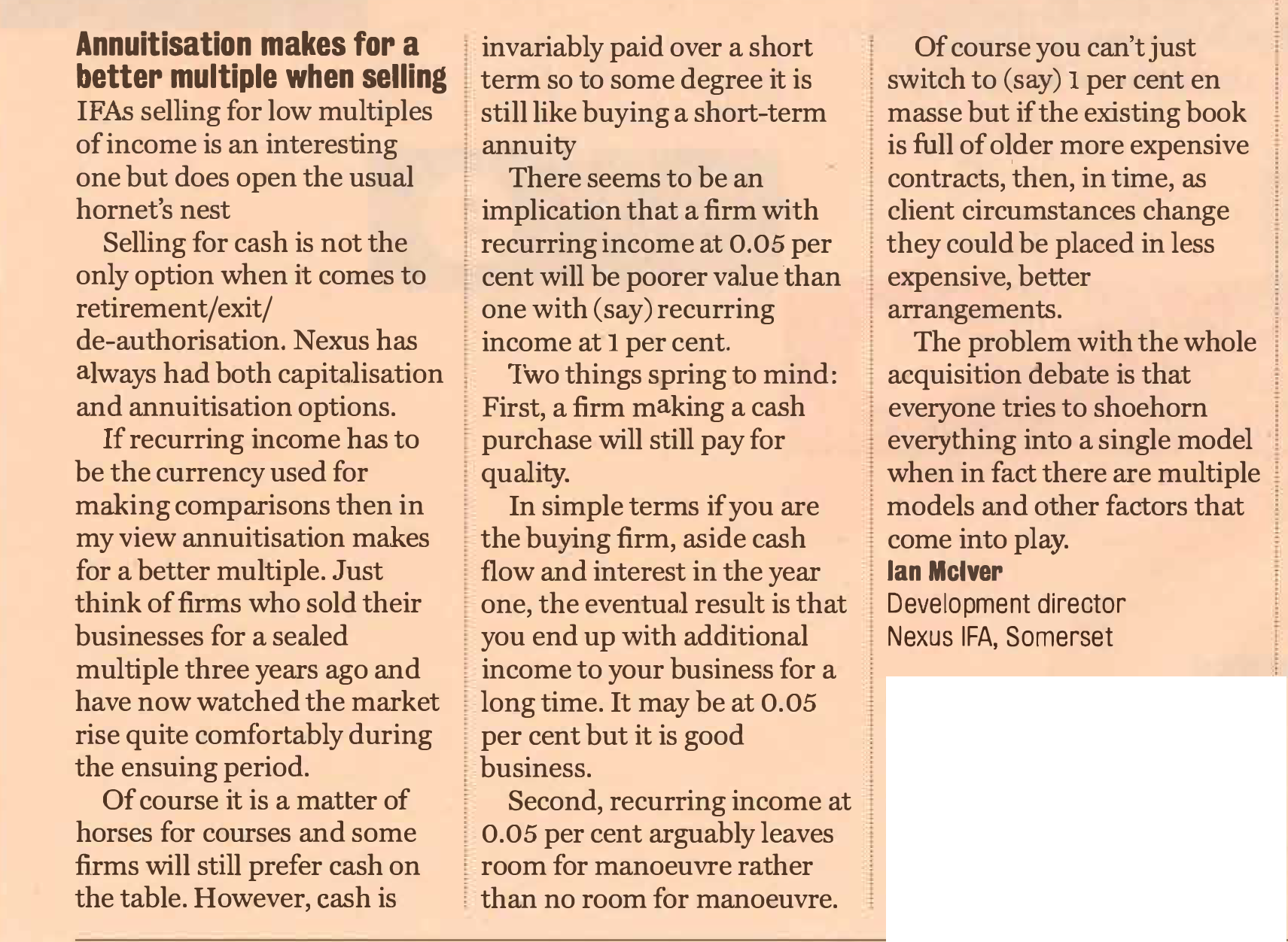 View Article
Top
---


FCA needs to add its weight to finding new recruits
Published 23rd February 2017
It is good to see an increasing number of words being written about the need to find new advisers in our profession, i.e. apprentice funding, the new PFS Aspire programme.

But, there is still the underlying problem that new entrants do not arrive at an IFA firm and hit the ground running. Think of the parallel scenario with a lawyer. New entrants arrive with a law degree and much of the technicalities under their belts.

I recently paid a visit to university in south Wales and was saddened by the news that they have just stopped their financial planning degree. This degree was accredited at level four by the FCA. That means a firm taking on a recruit from this course is broadly 'ready to go aside from competency sign off / training.

The number of students needed to run the course was 15. How sad. I am told there is a regular queue outside the law degree door.

Fathers take pride in saying: "Here's my Jimmy, he's going to be a lawyer". I bet my bottom dollar that when Jimmy came back earlier from the careers office and said that there was also an interesting financial planning course on offer that he was probably dissuaded by his father.

It's not as credible.

If we really wanted to solve the issue of getting new entrants to the profession then the regulator should be talking to universities and discussing how to get level four accredited courses more widespread throughout the UK.


Ian McIver, Development Director, Nexus IFA
Top
---


Intellectual knowledge is what clients are paying for
Published 9th February 2017
I saw an interesting social media discussion questioning whether a discretionary fund management (DFM) solution was worthy of continuance.

An interesting third party view made a good point saying that if you do it yourselfand invest in fund(s) of your choice, you are still giving managers discretion over stock selection. There is an element of discretion in any choice you make, I would agree.

My view reverses the question: if you don't follow a DFM/outsoutced model then what's the alternative? 'Too many advisers feel they need to be doing more to 'substantiate' their fees. If it's simply to substantiate their fees then they end up at the same point as someone who works smarter and ironically then has more time with their clients. Clients value your time.
Ian McIver, Development Director, Nexus IFA
View Article
Top
---

Nexus Trio Take Next Step
Published 6th February 2017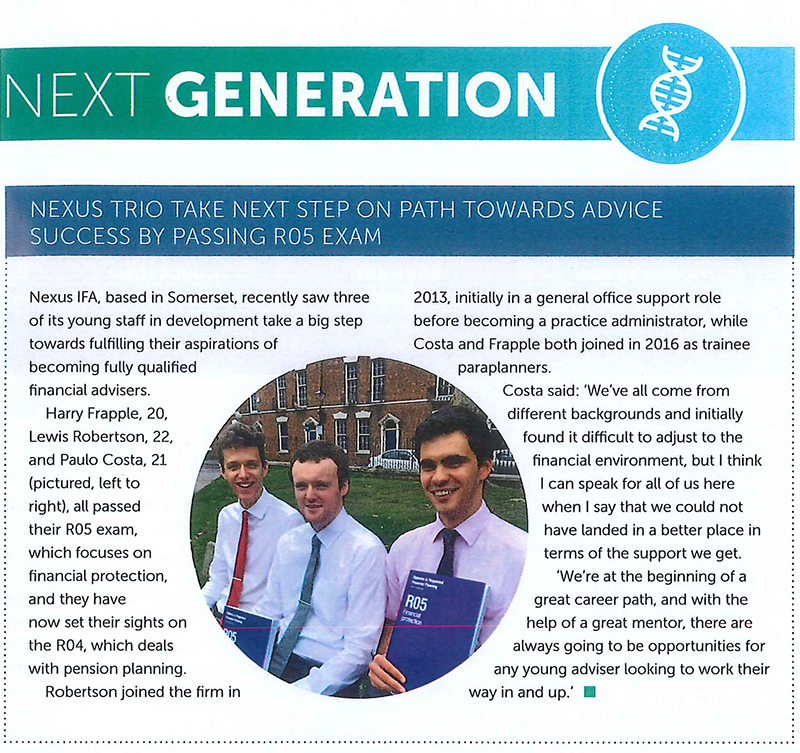 View Article
Top
---

The answer to long-term IFA survival is fresh blood
Published 26th January 2017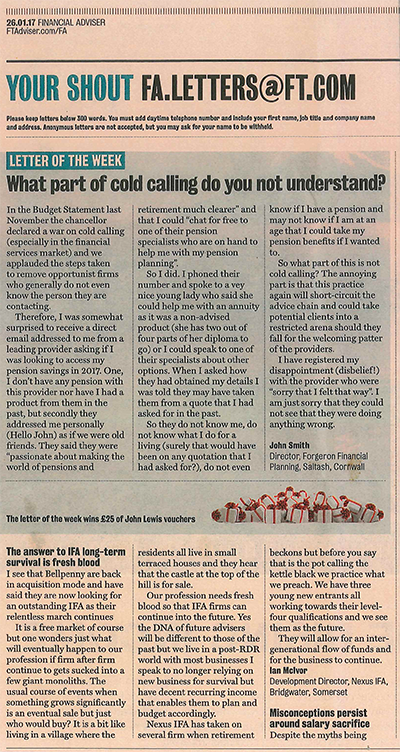 View Article
Top
---

Adviser Profile: Phil Frapple and Chris Rigby of Nexus IFA
Published 20th January 2017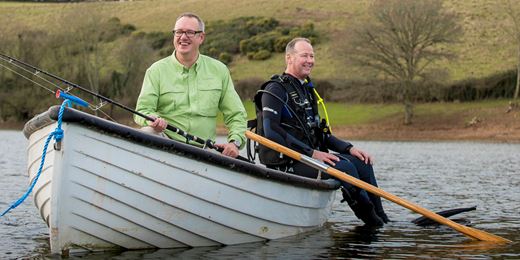 FISHING FOR FIRMS
Phil Frapple and Chris Rigby have worked tirelessly to progress Somerset-based Nexus IFA from a tight-knit, family-run firm into a serial acquirer of other small businesses
The sleepy town of Bridgwater, with its quaint character, might not be the obvious home of a firm making strides towards becoming a national IFA. Nonetheless, Bridgwater-based Nexus IFA has been thriving from its South West base, making numerous acquisitions as it stamps its presence across the UK. Is it on the path to becoming another faceless consolidator? No chance. It operates as a friendly, family-run firm, while building the economies of scale of a big business.
While its owners, directors Phil Frapple (pictured left) and Chris Rigby (right), are adamant Nexus is focused on its service for clients, it is practice buyouts that have fuelled its ascendancy and taken it beyond £400 million in assets under advice. Such acquisitions are typically of one and two-man bands with turnover between £100,000 and £200,000, and all involve IFAs with 'well-loved and managed client banks'.
Lucrative line
Retiring IFAs usually enter an earnout scheme whereby they share in the income from their business while reducing their liability. This can be particularly lucrative for the seller because Nexus' processes and economies of scale make the client bank more profitable, leaving some IFAs with a higher annual income than they previously received, albeit temporarily. The directors say this model means Nexus can fund its buyouts entirely through its own profits, and has taken on no debt.
'The traditional IFA deals equate to three times your income, but the Nexus offer often works out as roughly double that,' says Frapple. Nexus keeps the selling IFA at the heart of the process, ensuring he or she switches to an advocate role to provide a smooth transition. 'It benefits everyone, there's longevity to it, and the clients tend to stick,' says Rigby.
The company works hard to ensure firms will be a good fit for the Nexus proposition, and since 2014 has called upon the services of development director Ian McIver, who travels the UK to find suitable ventures.
Click here to read whole article
Top of Page
---

Talking Heads: What does a Trump presidency mean for you and your clients?
Published 9th November 2016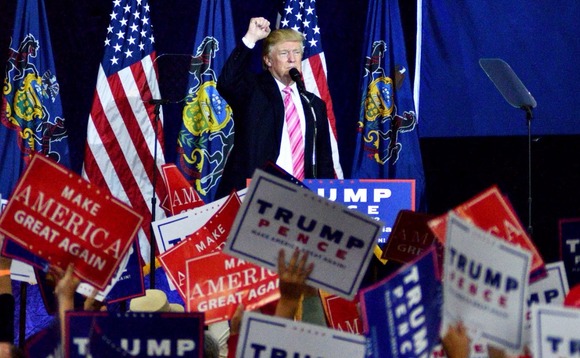 After a long and bitter campaign, Donald Trump has beaten Hillary Clinton in the race to become the 45th President of the United States. Professional Adviser asked three advisers what, if anything, this could mean for their clients and their businesses.

When Donald Trump emerged victorious after securing the final electoral votes he needed to become US President-elect, there was a sharp intake of breath through much of the rest of the world.

Arguably the most controversial US Presidential candidate in modern history, Trump is nothing if not a wildcard - and markets reacted accordingly as his win was confirmed.

A Trump presidency has huge implications for the US and the rest of the world, but what, if anything could it mean for the UK's financial advisers and their clients? Here's what three had to say ...

"Feels like Brexit"

Ian McIver, development director, NEXUS IFA

"This just feels like the day Brexit was announced. Markets will probably dip down, and then it'll be good. Ultimately, the world keeps turning. It's already started to recover so I think it will be business as usual. This is the US's equivalent of Brexit. It will go through the same sort of shape, and eventually it will be fine.

"Our philosophy has always been that we use DFMs. Financial advisers are too slow to react but DFMs know exactly what's going on and have control of the situation. An adviser doesn't have DFM positions - they don't have the ability to handle the money, they merely pass it on. We're happy our DFMs will have read the market some time ago.

"I'm relatively optimistic because of what we've seen with Brexit. I'm a realist - I think in the annals of history they'll look back and see 2016 as the year the proletariat thought they'd have a dig at the establishment. We did it with Brexit; they're doing it with Trump.

"But the US president doesn't have as much power as some people might think. Politics is a slow, sludgy, sticky sort of game. Trump, like every politician, will get pulled into it. The wheels turn a heck of a lot slower, and I think all the warmongering and scaremongering won't actually happen."
Click here to read whole article
Top of Page
---

On the Road - Trainee treble
Published 19th September 2016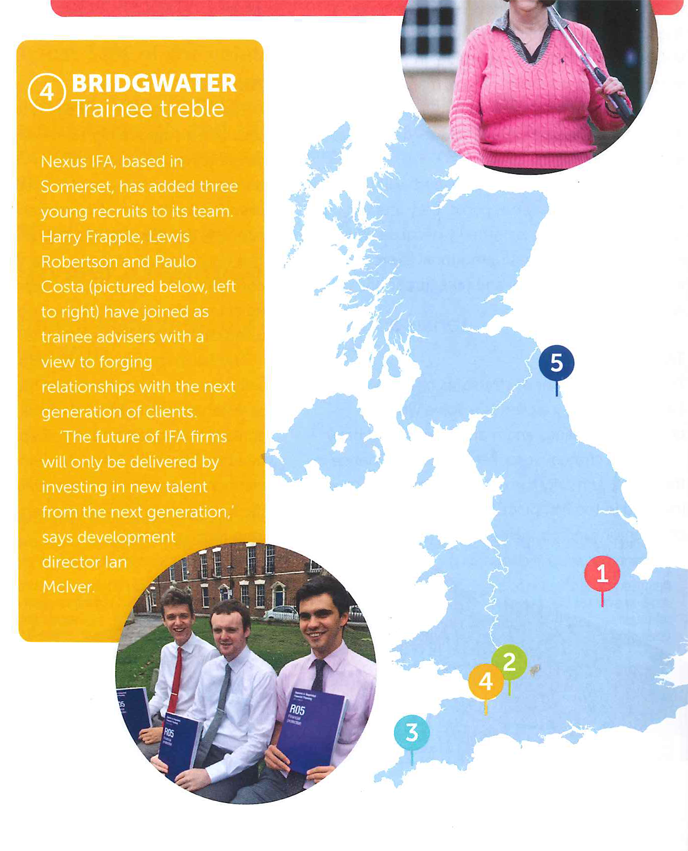 View Article
Top
---

What advisers are saying
Published 4th August 2016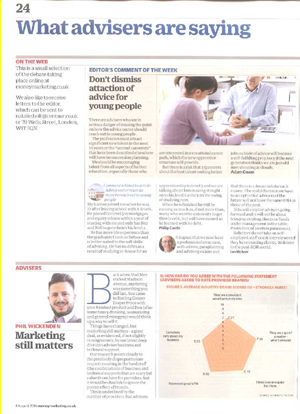 Click here to view page
Letter from Ian McIver related to the article:
Advice sector must do more to reach out to young people
.
Online Comment to the article: Ian McIver 29th July 2016
I agree entirely and recently made similar comments elsewhere to the same effect.
It's great that we now have a profession structure – admin/Paraplanning/advising exams and there is a desire to take such exams.
The real difference we have to accept is that advisers of the future will NOT have the same DNA of those of the past.
IFA's will employ advisers going forward and they will bring to the table no existing clients or FUM. Protection of assets is paramount.
Solicitors don't take on self-employed staff nor ask at interview if they have existing clients! Welcome to the post RDR world!
Top of Page
---

Acquisition trends make bringing in new advisers even more important
Published 13th July 2016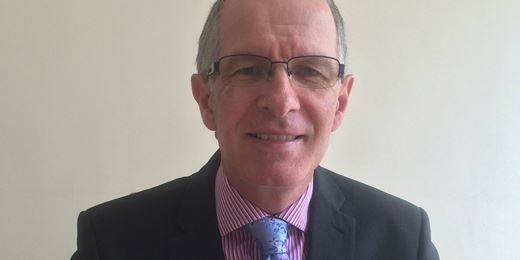 There is no doubt that the current sweet spot in the advice market is acquisitions. Consolidators large and small seem to be emerging everywhere. But what happens long term as a result of all this activity? What do you do when you're the biggest player in town with all those new clients under your wing?
I am the Personal Finance Society education officer for south Wales as well as the development director for Nexus IFA. So whilst with the latter I have my acquisition hat on, the former often makes me think about how we attract new blood to the profession.
Though I'd like to say our acquisition model is quite different to most - rather than simply buying a firm for a multiple of recurring income we have an advocacy model that keeps the previous adviser involved - our advocates typically have a 20:80 split on clients they would prefer to continue dealing with and those that are, for want of a better word, transactional.
How do you deal with that 80% of clients and indeed the other 20% when, in time, the adviser eventually decides that he'd prefer the beach to any further client contact.
The hiring train
It has to be that we start to take on employed advisers. But we need a mind-set change. IFA firms don't blink at having to employ a receptionist, administrative staffer or paraplanner, but seem to draw the line at paying for advisers. I was recently told that 'unless they bring funds under management to the table, why would I want them on board?'
When a law firm approaches the graduate market they don't look for someone prepared to work on a self-employed basis, nor whether they have an existing client bank to bring across. IFA firms have to start doing the same. Future employed advisers will be happy to be given a guaranteed salary in return for being asked to engage with the client bank. They know no different. Indeed the role can primarily be a relationship styled one – keeping clients and assets on the book is just as valuable as acquiring anything fresh.
New solutions
Taking on young advisers presents a solution to all those clients you now have if you've been on the acquisition trail, but it also means we begin to see wealth starting to cascade. Investments will stay intact for longer and across generations. Of course it goes without saying that future younger clients work better with younger advisers nearer their age. That's always going to be the case.
Nexus has two trainee advisers in our employment presently because of our acquisition activity. It commits us to the future. It is great that we can now encourage all employees to do exams, be they administrative, paraplanning or advisory. There is choice and choice gives new entrants a career path. Having that career path means we are now a profession rather than an industry.
Ian McIver is development director at Nexus IFA, which has acquired 25 firms through consolidation.
Back to top
---

On the Road - Serious Schooling
Published 6th June 2016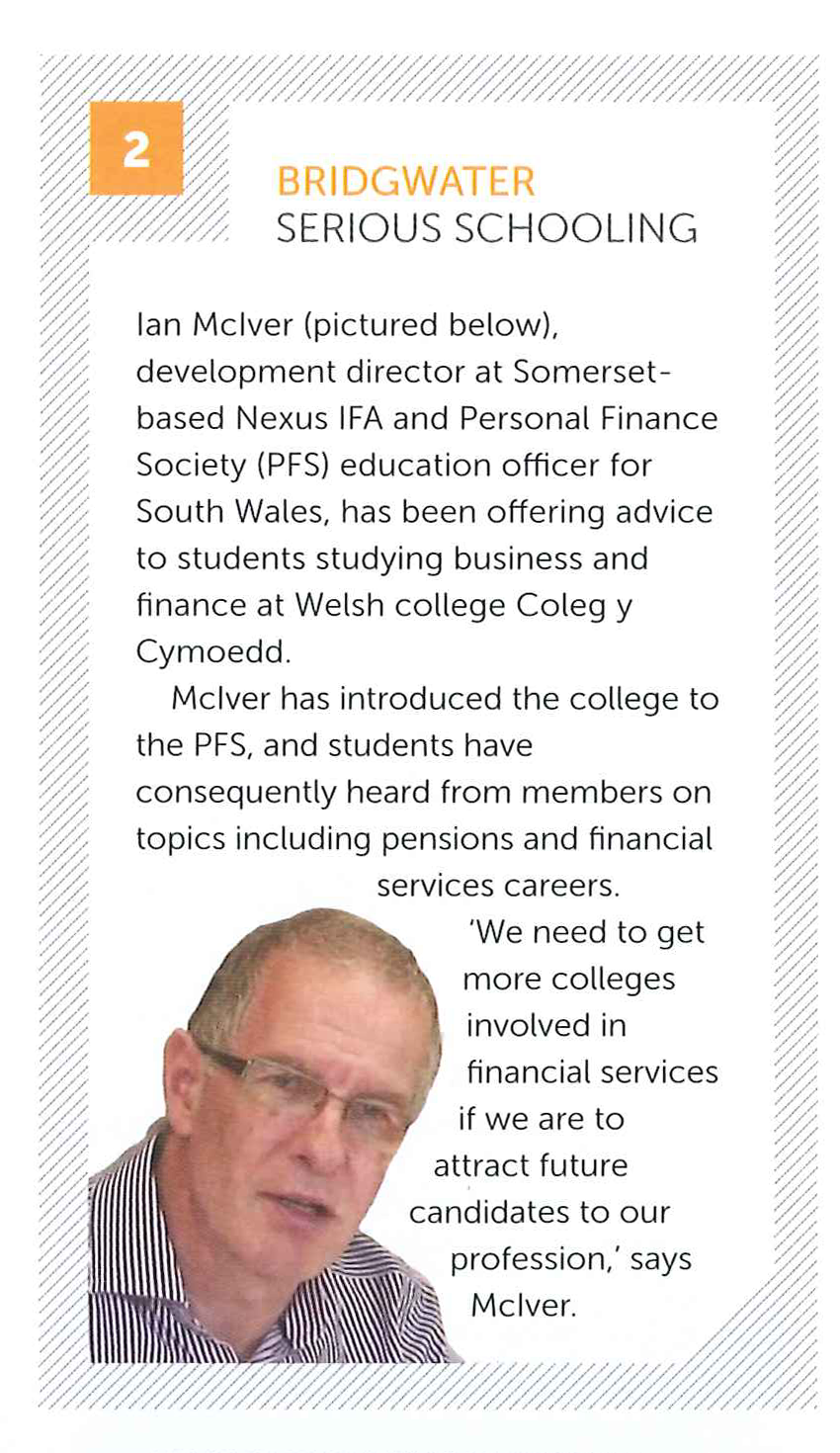 Nexus IFA connects Welsh college with PFS
Ian McIver, development director at Bridgwater-based Nexus IFA, and the Personal Finance Society (PFS) education officer for South Wales, has been offering advice to students studying business & finance at Welsh college Coleg y Cymoedd.
Read Article
View Whole Page
Top
---

Beware of the consolidator's pull-in price
Published 6th May 2016
A deal may not always be a great one several years down the line.
How many of us have had experience of being quoted £x by an online car purchasing facility for that Ford Mondeo we're selling?
Okay, okay, we're in financial services so perhaps selling the Jaguar.
We get the quote, then find any eventual blemish, dent, scuff, or tyre wear is used as a gradual reduction from the enticing 'pull-in price' – hold this thought.
Presently the consolidator market is a busy place. By definition consolidator simply means anyone wanting to by an IFA firm looking to exit the market (or, in individual terms the adviser retiring/de-authorising).
It would be busy of course. Despite being told the average age of the financial population is decreasing I'm not unconvinced this means everyone is being included in the calculation, such as paraplanners, administrators, etc.
That's a good thing but the CF30 adviser audience still seems old and, importantly they hold the value.
Consolidators fall into two groups: those wanting to buy you for cash, or those agreeing to pay an ongoing percentage of any recurring income.
"The first thing a seller suddenly realises is actually all the cash doesn't arrive at once"
There are pros and cons to both, with Nexus in the latter camp.
In the former camp where there is a cash sale, the first thing a seller suddenly realises is actually all the cash doesn't arrive at once.
It's normally paid over three years – the buyer is making sure what was being bought on day one still looks the same one or two years' hence.
If an IFA feels he can sell his £100,000 recurring income for 3x and therefore expect £300,000, then he's in for a shock when he receives £100,000 in year one, less in year two and even a bill in year three.
It's the same 'pull-in price' principle, with the buyer then looking for as many blemishes, dents and scuffs as possible to reduce the year one and two payments.
I recently heard a suggestion that a solution to the problem is to be quoted a guaranteed price. It's a lower price of course but is this really a solution?
Someone offering a guaranteed price of anything less than £300,000 is simply admitting to the seller that a valuation which starts at 3x was never likely to materialise.
Too many scuffs and dents again, you see.
Ian McIver is development director at Nexus IFA

Top
---

NEXUS EYES NEXT GENERATION
Published 29th March 2016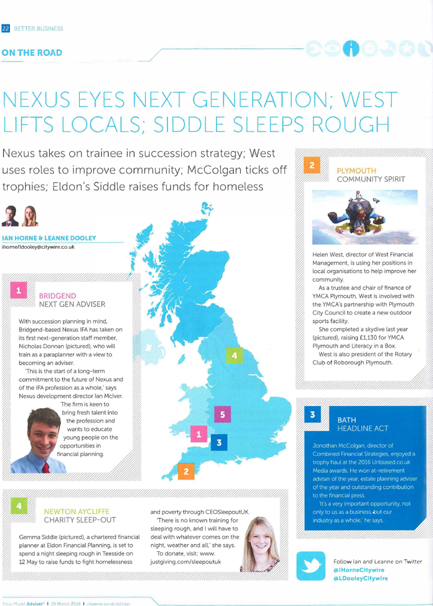 Magazine snippet with Nexus IFA's new trainee Paraplanner Nicholas Donnan. (Did you spot the magazine's mistake - it appears we've moved across the Bristol channel, keeping the Bridge but losing our 'water' to the end!)
Top of Page
---

THE BREAKFAST CLUB
Published 21st March 2016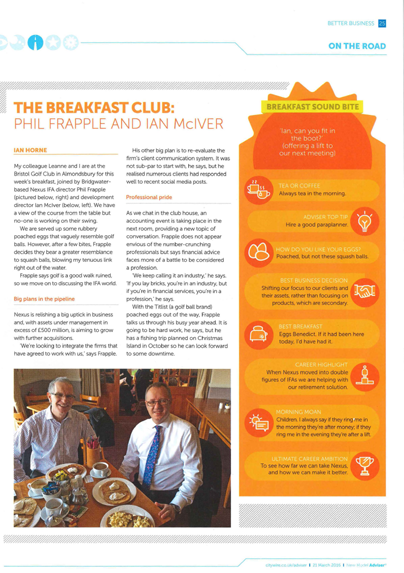 Magazine profile of Nexus IFA's Phil Frapple & Ian McIver
View Page
Top
---

Retired IFAs Boost Nexus
Published 2nd February 2016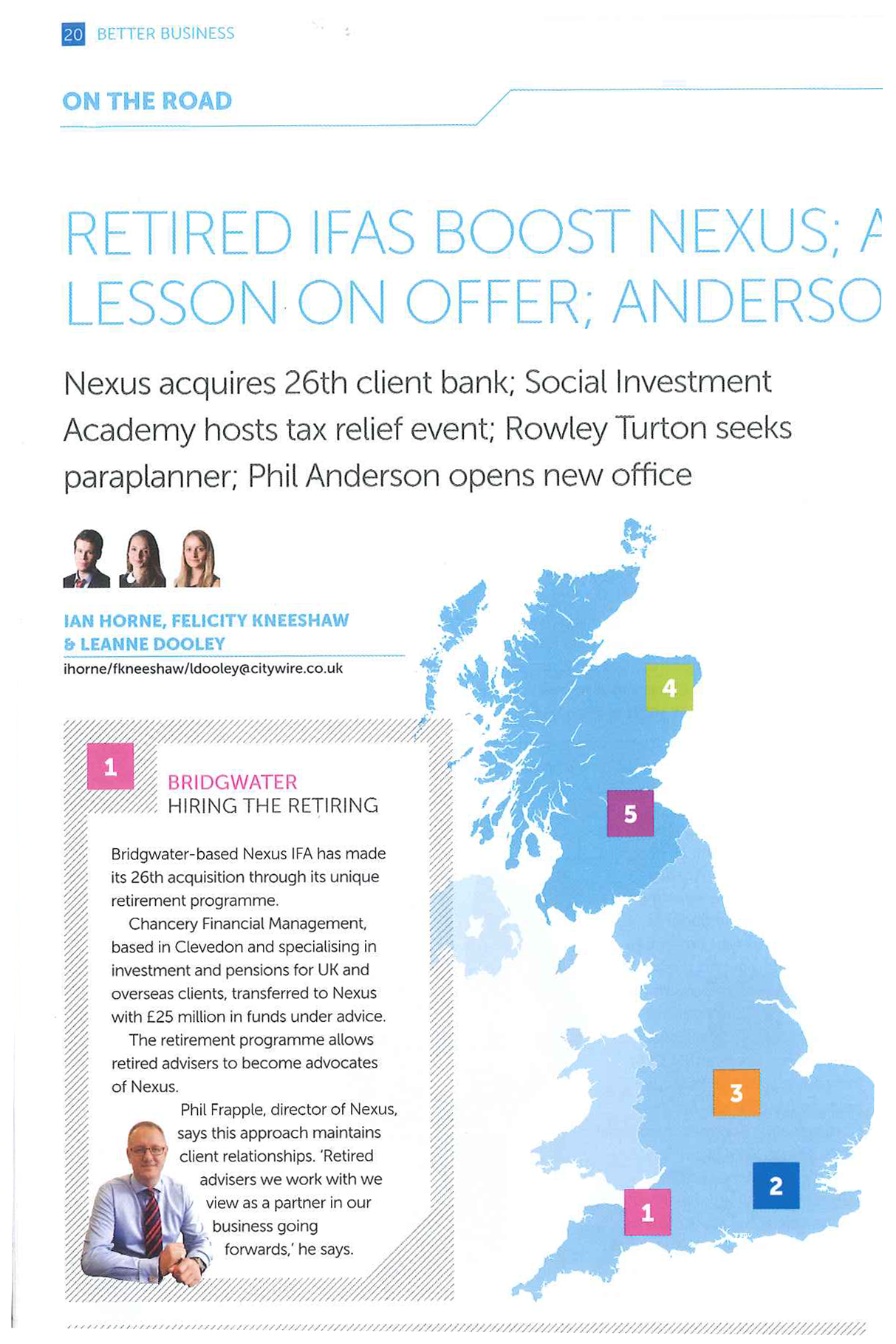 Magazine article about Nexus IFA -
click to view
Top
---

Company Profile
Published Dec 14 2015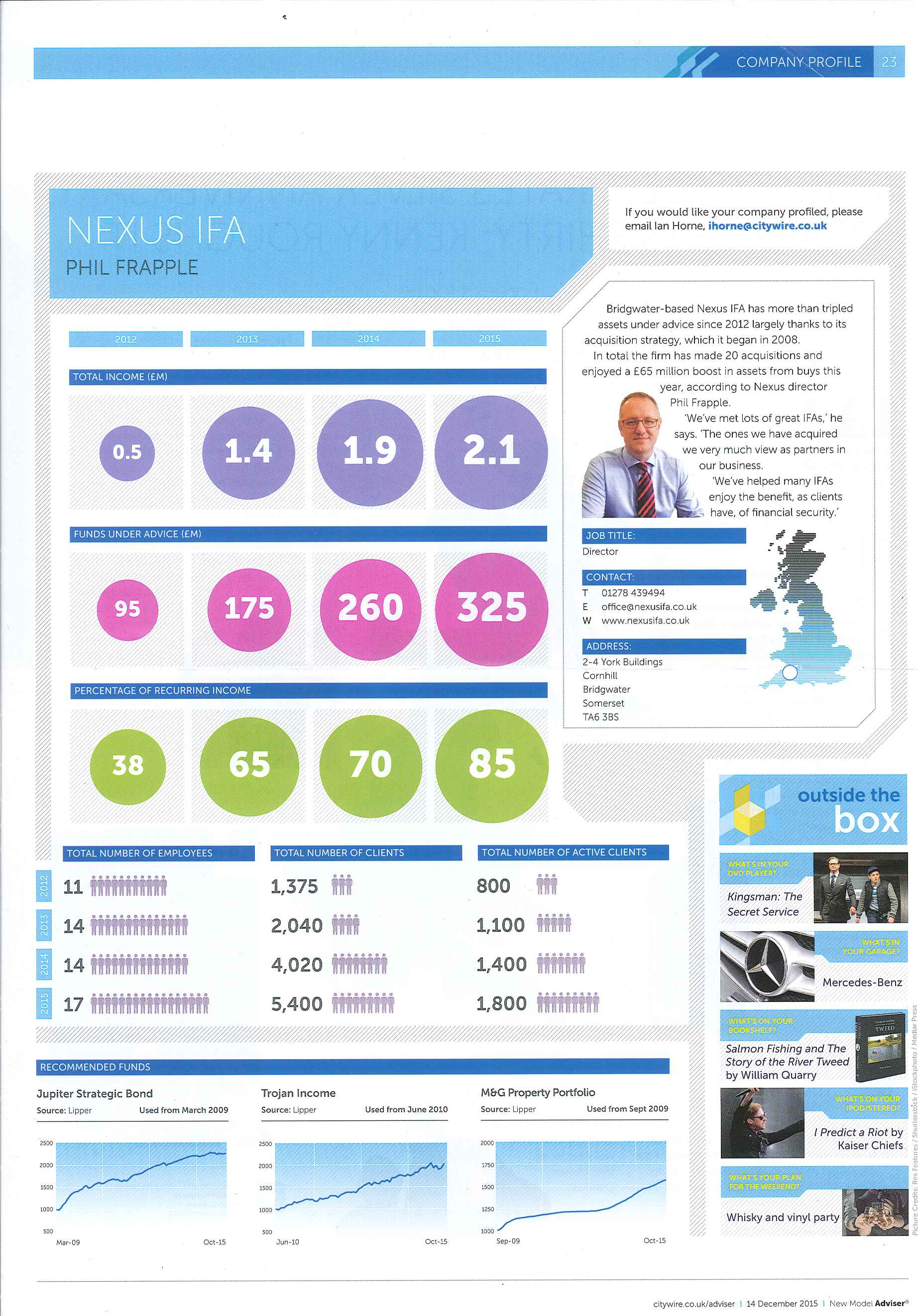 Magazine profile of Nexus IFA -
click to view
Top of Page
---

Personal loss of selling your IFA business
By Kevin O Donnell | Published Sept 03 2015
There is a rush to acquire IFA firms, in which buyers should take care not to neglect the all-important adviser/client relationship
We have seen a rush to acquire IFA firms in recent months. Last week, for example, Tilney Bestinvest acquired the West Midlands-based financial planning business Webb Holton for an undisclosed sum.
Another one that caught my eye last week was the acquisition by Somerset-based firm Nexus IFA of a London-based sole trader Atlas Advisors, which has £20m in assets and some 300 clients.
The acquisition by Nexus is the firm's 25th so-called 'advocacy' buyout. Under this arrangement, the retiring sole trader sells his business to Nexus but maintains a non-advisory relationship with previous clients.
The adviser continues to benefit from a proportion of recurring income from his previous client bank while helping to smooth the transition of clients to Nexus.
I like this approach, not just because it is worthwhile financially, but because it also recognises the value of the long-standing and personal relationships between advisers and their clients, a factor often overlooked in the stampede to acquire assets under management – clients are people, not just numbers on a spreadsheet.
This scramble to buy IFA firms, which I suspect will continue, is in marked contrast to the position of 10 to 15 years ago, when many small IFAs found their firms almost unsellable.....
.....In the rush to acquire IFA businesses, the fundamentally personal nature of what IFAs provide may have been overlooked at times. Nexus may not have the perfect answer but their recognition of the long-standing personal connection between adviser and client is one to learn from.
Click here to read whole article
Top
---

Summer sales: the biggest acquisitions in August
By New Model Adviser team | 27 Aug 2015
Check out the biggest deals of the month
Nexus nets

Somerset-based advice firm Nexus IFA has boosted its assets under advice to £400 million by acquiring a North London-based firm.

Ex-Whitechurch Network boss Ian McIver's latest venture Nexus IFA has bought sole trader firm Atlas Advisors from director Jeff Bromley, which has around £20 million in assets and around 300 clients.

The acquisition has boosted Nexus' assets under advice to £400 million, and is the firm's 25th.

Click here to view article

Top
---

Somerset IFA boosts assets to £400m with London acquisition
By Ollie Smith - 26 August 2015
Somerset-based advice firm Nexus IFA has boosted its assets under advice to £400 million by acquiring a North London-based firm.
Ex-Whitechurch Network boss Ian McIver's latest venture Nexus IFA has bought sole trader firm Atlas Advisors from director Jeff Bromley, which has around £20 million in assets and around 300 clients.
The acquisition has boosted Nexus' assets under advice to £400 million, and is the firm's 25th 'advocacy' buyout.
The firm's 'advocacy' buyout scheme allows retiring sole trader advisers to sell their business to Nexus, while still maintaining a non-advisory relationship with the clients.
The retiring adviser will continue to receive a proportion of recurring income form their client bank.
McIver, development director at Nexus IFA, said that the company's scheme presented a challenge to the traditional exit plans pursued by advice firms.
'Most people who retire and sell are told by the person buying them that they are not allowed to go near the clients they are giving up,' he said.
'Our attitude is different. We want advocates to maintain their relationships with the clients they have had, while "bedding" in their clients' contact with the new advice firm. It's a fantastic thing. Why would you not want to do that?'
Click here to view article
Top of Page
---

Pension freedoms pushes paraplanning use
By Peter Walker - 22 June 2015
Outsourcing is becoming more prevalent, with more advisers using paraplanners and, according to one adviser, this is driven by the pension freedoms.
John Redmond, senior paraplanner at BPH Wealth Management, told FTAdviser that demand for paraplanners seems to be as high as it has ever been, as many adviser firms look for good quality and highly qualified new team members.......
...Speaking to FTAdviser Ian McIver, Nexus IFA development director, said that while it is admirable that many advisers feel they must work hard to earn their keep, this is fundamentally "old thinking" and more modern advisers are increasingly outsourcing everything but client matters.
"I don't think outsourcing to paraplanners is quite as rife as it could be, most have started with going to third parties for discretionary fund management, but haven't got as far as administration and compliance.
"Outsourcing is definitely becoming more relevant though. The dust has really settled now since the RDR, businesses are in better shape and can properly budget, with the obvious next move being to outsource internally so that the adviser's role is purely client-based.
Click here to view article
Top
---

Bridgwater-based firm takes on two as client numbers soar
By Jun Merrett - 12 May 2015
Ex-Whitechurch Network boss Ian McIver has taken on two former appointed representatives to join his latest venture Nexus IFA.
McIver, who became the Bridgwater-based firm's development director in January 2014, has hired two advisers who used to be part of Whitechurch.
He left Whitechurch, which he founded, after it was acquired by On-Line Partnership in May 2012.
John Piper and John McKee have joined Nexus IFA as advisers, with Piper based in its Bridgwater office and McKee based in Peterborough, bringing Nexus's total adviser numbers to five.
The appointments come as the firm has taken on its 23rd 'advocate': retiring advisers who agreed to sell their client bank to Nexus, while still maintaining a non-advisory relationship.
Nexus is looking to hire more advisers to service these retiring IFAs' client banks as the team at its Bridgwater office is currently looking after 8,000 clients.
McIver said: 'We've reached a crossroad in development with advocates so we're looking to build a more focused adviser team to look after those clients. We're looking to add two or three new advocates a year, so we're constantly adding to our client bank and always keeping our eyes open to hire more advisers.'
Click here to view article
Top
---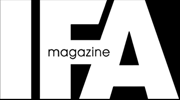 IFAs: Making a Staged Exit
By Michael Wilson | Published 1st May 2015
When the time comes to retire, what are the options for IFAs? Neil Martin kicks off a new series with Ian McIver from Nexus IFA
What does the ideal retiree look like? According to Ian McIver, Development Director at Somerset-based Nexus IFA Ltd, he's an IFA who'll be happy to receive regular income from his client portfolio for up to ten years and who'll stay around to help a smooth client transition.
A Better Way
McIver says that many IFAs who sell their client recurring income stream are simply told to hand over their portfolio to the buying firm, take whatever cash is offered, and then never darken the doorstep again. But the Nexus way is different, he says. Retired IFAs are given the title of Advocate, which means that they still get to communicate with their clients, but that they no longer provide advice.
McIver reckons that a walk-away cash deal is the worst one that most IFAs can do. Nexus says it gets IFAs who come to them with a portfolio with say a £100,000 of trail and recurring income, and who claim that they've been offered only £300,000 for the lot.
The Incredible Shrinking Payout Deal
"Let's assume he does get the money all in one go," McIver says. "What's he going to do with £300,000? It's a lot of money, and he'll invest it to get some income off it. So he can buy a pension with £300,000 cash, and at best it will probably buy him a pension of about £15,000 a year. Well, currently he's earning a hundred thousand, so his wife is going to be pretty annoyed when he tells her that he's £85,000 down."
But, according to McIver, it's rarely as simple as saying 'here's a cheque for £300,000'. What usually happens in practice is a promise of £100,000 every year for three years, except that the clients might scatter at the first sign of change, and then the value of the portfolio changes. That in turn means that the second and third payments become suspect.
So the hoped-for £300,000 can quickly become £100,000 in the first year, a lot less in the second and very little in the third year. McIver thinks there's another way.
"What he should do is say to his buyer, 'can you take on the clients, but pay me an ongoing regular income from that? Okay, it's not going to be all of it, I accept that, but more importantly, I can also obtain some continuity with the clients.'"
"And this is what we do. The Nexus approach is to pay the IFA between 60% and 70% of what he or she would get for a straight cash deal. And this can last for up to ten years. That's 60% to 70% per year. In return, the IFA helps maintain the client relationships, and rather than the promised £300,000, they could potentially get 10 x £70,000, so a total of £700,000. And, if the IFA dies within the ten years, then his wife will continue to get the payments.
Smoothing the Transition
"This is achievable because the IFA, now an Advocate, is helping to smooth the transition from his portfolio to ours, so that the client attrition rate will be far less over the years – meaning in turn that more of the income can be saved."
McIver makes the point that most people they meet don't want to just run away. They would like some continued involvement, although there is a limit to how far that goes.
"They won't want to be involved for ever, so we say if they do it for a year, or 18 months, then that's probably sufficient because it binds the client in and lets them know that their advisor is now Nexus. So, after about 18 months, they can nip out of the door and have less involvement."
Key Features of the Nexus Proposal

- Rather than an outright cash sale, Nexus IFA pays the majority of any recurring income to the Advocate

- The Nexus Advocate also shares in new business earnings which then feeds and increases future recurring income

- Advocates have the time to maintain client relationships – the part they do best

- No further paperwork, no need for authorisation and no further payment of regulatory fees

- Quote: "Nexus has a lot of FUN. Nexus has a small and friendly business approach which many retiring IFAs and their clients will find more comfortable than the 'big corporate' approach"
De-Authorising
The real issue behind all of this, believes McIver, is the way that advisers decide to define their retirement. They are not obliged to retire at any given age, and many don't want to give up. What they effectively want to do is de-authorise, because they don't want all the hassles with the regulatory environment and administration. And on the flipside, many of their clients are friends, so they don't want to just walk out on them.
McIver also warns retiring IFAs that, should they de-authorise, but expect recurring income from the portfolio, it's unlikely that they will continue to be paid out by providers. In fact, they would immediately classify them as former advisers, and no longer qualifying for payments.
In short, says McIver, the Nexus approach gives an IFA a percentage of the ongoing income, for a maximum of ten years, and allows them to stay around, but not have to face all the regulatory demands that goes with the job. They also receive a percentage of any new business gained with their client, which is again recurring.
McIver says the real irony is that, of the 23 retirees who have joined Nexus as Advocates, all of them are now earning more than when they were sole traders…
Click here to view article
Top of Page
---

No song and dance
Letter to the editor
Published October 23, 2014
With regard to the FA article
Regulatory Pressures are Forcing Sole Traders to Bail
(9 October), as I have written many times before, selling for a capital sum is a very poor value decision in my opinion. This is especially so if you have a reasonable level of recurring income.
Simple maths will tell you that the amount of capital you need to get anywhere near your recurring income level is going to be a pretty steep order, indeed impossible. The irony is that the 'capital' sum is never paid as a lump sum anyway – for obvious reasons to the buyer, it is done on the drip.
Get the attrition rate and you could find yourself with a payment in year one and a bill in year two.
Far better to have a mutual arrangement with someone who will pay you a reasonable percentage of your income so that all parties are happy. Nexus has just taken on its 21st ex-adviser in this manner. We do not make a song and dance about it but I do notice that every time a firm is sold for a capital sum it seems to be an article in itself.
Ian McIver
Development Director, Nexus IFA, Bridgwater, Somerset
Click here to view article
Top
---

Diary of an Adviser: Phil Frapple
Published June 19, 2014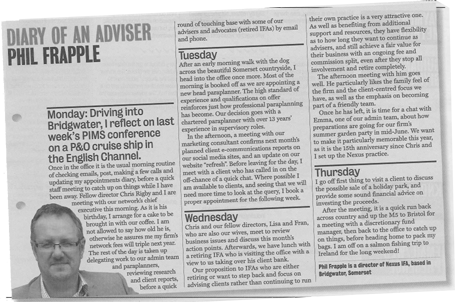 Click here to view article

Top
---
Letter: This is not how a network should work
FTAdviser Blog | Published May 01, 2014

On the criticism surrounding Tenet charging advisers £500 to leave its TenetConnect adviser network, I used to run a network and I am proud of the fact it was easy to get in, and easy to get out.

If you run a network properly, then the customer has the right to say that they no longer wish to be in the club. That could mean that they have outgrown the need for membership, which is positive and means the network helped them in their business plans, or, more importantly, if they leave for any other reason, then the network has failed. Put bluntly, I always used to say that no member was born with a tattoo on his or her behind saying that, when they graduate as an adviser, they have to join network X and indeed stay forever. The problem seems to be that network X invariably sees it that way.

The real issue is also that network members are getting a tad hacked off that they are always quoted as having the value in the food chain and indeed ownership of the clients, yet someone else picks up the cheque when the network is sold on. As a member of mine said to me not so long ago: "What is in it for me?". Exactly – just when does he or she pick up a cheque for their share of the value chain? The final fly in the ointment is professional indemnity insurance, or more precisely the need for PI run-off cover. We need an open debate on what this is all about. If a network asks for such cover, then what is the point of a network membership? RDR has changed the whole landscape for advisers. Networks that do things right are still all right, and if not, vote with your feet. One should be able to put those walking shoes on without fear of being unjustifiably penalised.

Ian McIver
Development Director, Nexus IFA

Click here to view letter

Top of Page
---

Life on the frontline
Published 7th April 2014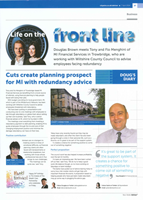 Tony Menghini of MI Financial Services (a trading style of Nexus IFA) talks to New Model Adviser magazine about how financial planning can help local government employees facing redundancy.

Click here to view page

Top
---

Customers go online to rate Trowbridge finance expert
Published 9th March 2014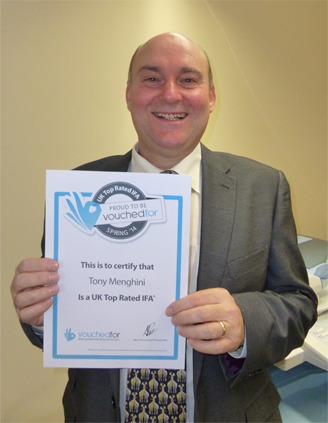 Nexus IFA adviser Tony Menghini, based in Trowbridge, has been voted one of the Top Rated Independent Financial Advisers (IFAs) in the UK on consumer ratings site VouchedFor.

Satisfied customers voted in support of Mr Menghini on the comparison website praising the high level of customer services he provides.

His rating on the website has seen him feature in The Times, Independent and Mail on Sunday.

Mr Menghini said: "I've been an independent financial adviser for over 20 years and being recognised as a top rated adviser in the UK is an amazing feeling. In today's testing times it is more important than ever that people plan for the future. An adviser can save you thousands, be that getting the right advice at retirement, value for money on protection arrangements or making the right decision with your investments."

Click here to view article

Top
---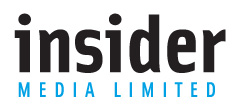 Acquisition for Nexus IFA
Published 23 August 2013

Somerset independent financial adviser Nexus IFA has acquired a business in Surrey, which takes its assets under advice to more than £220m.

The Bridgwater-based company has bought Pensionline in Epsom for an undisclosed sum.

Nexus IFA has bought 19 other firms over the last two years and currently has more than 10,000 clients across the UK.

Phil Frapple, Nexus IFA director, said the retail distribution review (RDR) had been a crucial factor in the firm's decision to expand.

"We saw there would be an opportunity to offer IFAs retiring or winding down their involvement in advising, a different solution than simply selling up or closing down," he said.

"A solution which would not only benefit their clients, ensuring the quality and high standards of financial advice were maintained and not leaving them as adviser orphans, while also benefiting the IFAs themselves as we value their continued input as part of our firm."

Pensionline was founded by Jon Minchin 23 years ago.

Top
---

Somerset IFA takes assets to £220m with 20th acquisition
Published 22 August 2013 | By Iona Bain

Nexus IFA has continued its acquisition spree by snapping up Surrey-based Pensionline, its director Phil Frapple has revealed. The deal will raise assets under management at the Somerset-based firm to more than £220m.

Pensionline, founded by Jon Minchin in 1990, was snapped up by Nexus as part of its strategy to capitalise on advisers tempted to retire or close firms post-RDR.

Phil Frapple, director of Nexus, said: "We saw there would be an opportunity to offer IFAs retiring or winding down their involvement in advising, a different solution than simply selling up or closing down.

"This would not only benefit their clients, ensuring the quality and high standards of financial advice were maintained and not leaving them as adviser orphans, while also benefiting the IFAs themselves as we value their continued input as part of our firm."

This is the 20th acquisition made by Nexus in the last two years. The firm currently has more than 10,000 clients based throughout the UK.

Click here to view article

Top
---

Nexus IFA acquires Pensionline client bank
Published 21 August 2013 | By Sam Macdonald

Nexus IFA has acquired the client bank of Surrey-based IFA firm Pensionline.

Pensionline has assets of around £21m across 250 active clients with founder Jon Minchin continuing to remain in contact with clients as part of the handover process.

The acquisition, its nineteenth in the last three years, takes Nexus' assets under advice to £220m and increases its client bank to 10,000.

Nexus IFA has five advisers and is in discussions with a further seven firms about buying their client banks.

Director Phil Frapple says: "We think we offer IFAs retiring or winding down their involvement in advising a different solution than simply selling up or closing down."

Nexus is an AR of The Whitechurch Network which was acquired by IN Partnership parent the On-Line Partnership Group in May last year.



Top